More Gifts from Sharon
I got mail!!!
I had sent Sharon a small token and LOOK what she sent me back - I am sooo spoiled! Sharon sent me some fun gifts in the mail (thank you!!!)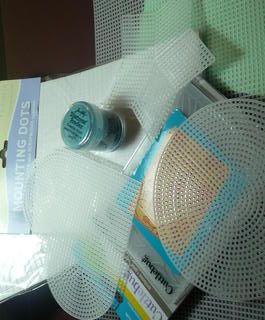 The plastic is to be used for paper piercing templates (LOVE all the fun shapes) she got these for SOOO cheap - she is a GREAT shopper. The mounting dots are like 8" by 6" they are HUGE and have TWO sheets in the pack - she found them at the dollar store --- with my love for pop dots these are VERY much appreciated! And she got me a NEW embossing folder! I just got the cuttlebug so this is just perfect! And the Tim Holtz Distress Embossing Powder -- woohoo.
I am in heaven! Thank you Thank you Thank you!